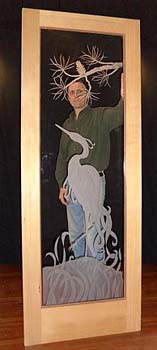 Chuck St. John - Glass Artisan

Chuck has been living and working with glass in British Columbia, Canada for more than twenty-five years. He has developed a variety of techniques for fabricating artwork in glass and metals that reflect his own style and sensibility. Using traditional methods of leaded stained glass as well as contemporary kiln-fired glass and tempered safety glass, he is able to achieve a variety of effects and produce work that suits the particular location, style and budget of his clients.

With designs ranging from representational wildlife of the rugged B.C. Interior to the abstract and kinetic light effects of beveled glass and kiln-fired stained glass in his non-representational work, Chuck explores the potential of light and glass to effect the mental and physical environment.

Having taken workshops at the Pilchuk Glass School in Washington State, and numerous other venues, Chuck has familiarized himself with the wide range of possibilities that glass can be used and is continually expanding his knowledge in the arts.